I Am Legend: Raymond Lewis
The LA Basketball Legend Lives On Through One Man's Passion for the Game


This is a story about a player and another man's passion for the game. This discussion is hardly about just any ordinary player.
This is the legend of Raymond Lewis.
There have been many articles written about Raymond Lewis in recent years. This time, TheHighPosts.com chose to speak with the man whose admiration for one player's game changed his life. Meet Dean Prator, the man largely responsible with bringing the story of Ray-Lew to the masses.
Dean Prator grew up in Los Angeles and has been in awe of Lewis' hardwood dominance since Prator was in high school at Dominguez High School in Compton. Lewis, meanwhile, was holding court crosstown at Verbum Dei, where he lead the Eagles to a 84-4 record while in high school, winning three consecutive California Interscholastic Federation titles from 1969-1971.
But it wasn't just in high school where Lewis dominated. In fact, the prep years were just the beginning of the mythical presence Lewis would play in the Southern California basketball scene for years to come. It is this storied reputation that lead Prator to build www.raymondlewis.com, a place where Raymond Lewis' story and achievements in hoops could draw inspiration for the next generation of ballers.
What is it about Raymond Lewis that lead you to follow his life and career so closely?
Raymond was just ahead of his time. He was local to the LA-area so people here knew about him, but back then we didn't have ESPN. You really didn't get the chance to see and hear about these other talents from other places. You hear people say all the time that someone was the best player to never have played in the NBA. Most of them, though, don't have the backing for those claims. We have newspaper clippings that show just how great Ray's game was.
I never saw him play a basketball game. We were in high school around the same time, he was a year ahead of me. The thing about Ray is that most of the things that you hear about him are all well-documented. That is the thing about his story–it's all right there and very real. You don't see numbers like those. I just felt that Raymond Lewis was too good not to be known. When I Googled his name, a few articles would come up. There was no place that was dedicated to his whole body of work.
When did you start the website and what has been the response that you have received from people, particularly players?
I actually began the website in October 2005.  The response that I have received has been tremendous. I have done hundreds of hours in research and interviews. People tried to put movie deals together on him, but it never worked out. Players like Paul Pierce and Baron Davis were interested in doing documentaries on him, but that's the thing. There is no video footage of him. So I really decided to create this website because I wanted his story to be told, especially to younger players. They need to know this man. Magic Johnson said to me that he was glad that Raymond's story was finally being told. I have talked with people like Jerry Tarkanian, Michael Cooper, and Marques Johnson who all had different stories to tell about the greatness of Raymond Lewis. Jerry Tarkanian, who tried to recruit Raymond to play for him when he was coaching at Long Beach State, called Ray the best player he had ever seen. Keep in mind, at that time, Tarkanian was a top-dog coach then. His team at Long Beach State was ranked like number three in the country. Raymond initially committed to play at Long Beach State. Tark was his boy and he probably would have played there if Cal State LA and Bob Miller had not bought Lewis a brand new red Corvette. Once that happened, Lewis ended up playing for Cal State LA.
I have received emails from family members or people who played against him who are now dentists, doctors, and lawyers–all of them attest to just how great of a player and what an impact that he had on the game for that time. Freeman Williams, who played in the NBA for 10 seasons, said that he is the greatest player he had ever seen, even better than Michael Jordan.

So what do you feel was Raymond's biggest challenge? If he had all of that talent, why didn't he make it?
I think that it all came down to that contract he had with the 76ers. He got drafted by the Philadelphia 76ers near the end of the first round of the 1973 NBA draft.  He signed what he thought was a guaranteed three-year contract for $450,000. Actually, it was for $190,000. A $25,000 signing bonus, $50,000 for the first season, $55,000 for the second and $60,000 for the third. There were things in the deal that he signed that he wasn't aware of, like the fact that he wasn't going to get all of the money his contract was worth immediately. So he gets to camp and is going up against Doug Collins, who was the number one pick for Philadelphia that year. He was just torching Collins, and it became such a big deal because the Philadelphia media started writing that Lewis was killing Collins, the number one guy.
The Philly and New York sportswriters watching the game discovered that Lewis looked better than Collins, the star of the Olympic Games and the club's and NBA's number one draft choice who had signed a $200,000 per year contract. In one full-court scrimmage, Lewis reportedly scored 60 points by halftime and coach Gene Shue called off the second half so that the number one draft choice and million-dollar rookie Collins would not be further embarrassed by Lewis. Here is Collins, who was getting $200,000, looking weak against Lewis. After all the publicity, Shue refused to let Doug Collins guard Lewis, and that's when Raymond decided he wanted to renegotiate his contract. He was like he was insulted because he was killing Collins. It was like he had that Watts mentality of 'You gotta pay me.'
There are contrasting stories on what really happened. When Philadelphia refused to redo the contract, Lewis reportedly walked out. Lewis, however, had said that Shue told him to sit out a year and mature. Nevertheless, after the alleged walkout, Lewis wasn't able to get his professional career on track. Most people say he got blackballed. In my opinion, if he would have just played the contract out, his career would have been much different. He didn't play one minute in the NBA. He then tried to go to and play in the ABA with the Utah Stars, but 76ers officials showed up and threatedned to sue if Lewis went into the game because he was still under contract with them. He tried to get on with other teams, but no one would touch him. At that is about the time when he just started taking out his frustrations on players in pick-up games on playgrounds and in Pro-Am leagues throughout LA. I mean, he was 29 years old an averaged 54 points per game in summer leagues. He went to the Spurs camp and scored 63 and 81 points. Why wouldn't you want a scorer like that on your team?
I talked to Gene Shue, the coach of the 76ers at that time. He said that as gifted a player as Ray was, there was just something missing with him personality-wise. I think that became evident over the years and hindered him in the long run. But that could never take away from the player that Raymond Lewis was. And that is why I wanted to do the website. I wanted people to learn about this great player and to he was the greatest player, and outside of those circumstances, I felt that people, especially young players, needed to know about his relevance to the game. He was the greatest player and a lot of people would never even know his name.
Dean Prator and Raymond Lewis' daughter, Kamilah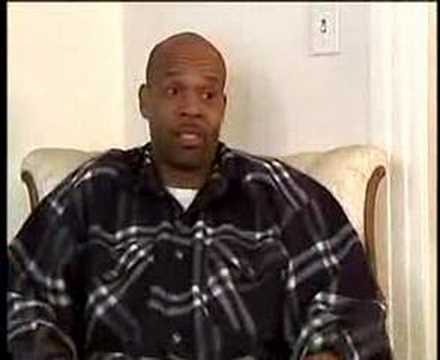 TownBiz is co-founder of www.TheHighPosts.com. Follow our twitter @thehighposts